Since I've basically been a no-show here on my blog in 2009, here's a few things I'd like to share as far as my work goes.
As usual, we have a ton of web initiatives taking place over at Gillette Stadium for both teams!
Web design
Revolution Blog & Patriots Football Weekly Blog – I moved these blogs from their respective wordpress servers over to our own servers and designed them to match their respective websites (revolutionsoccer.net and pfwonline.com)
Revolutionsoccer.net – Besides the daily updates, gave this site some graphical improvements and new sections for 2009.
Defendthefort.net - The Revolution started a new ticket offering this season for 'The Fort,' which is the hardcore fan supporter section at Gillette Stadium. What started as a simple splash page has evolved into a social network through a partnership with ning.com. So far the site has been a success and is continuing to grow on a daily basis.
Video Editing
The defend the fort campaign started with this video I put together with a movie trailer theme to it:
This was my first foray into Adobe After Effects, and I have to say that I am pretty pleased with how it came out! I also shot some of the video used in this last summer (the non-game action clips).
Last week I also put together this 30-second stop-motion clip from a series of photos I took at Revs' training one day:
Photography
I've shot a few training sessions and an awesome event we held for our season ticket holders at the stadium. Check out those photos here. Below is a photo of Robert and Jonathan Kraft: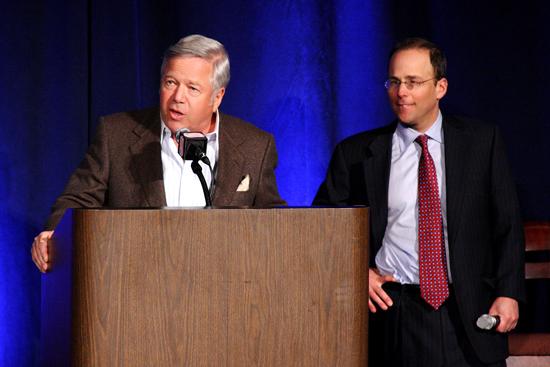 Finally – back to the defend the fort campaign – a major part of this has been the addition of an all-female promotional team dubbed the "Rev Girls." The Rev Girls basically go around to area bars and soccer themed events to help promote the team to the 21+ audience.
We held a photo shoot back in March, and these photos I took have been used in all of our advertising collateral (both print and web) across the defend the fort campaign. Below is a group photo from that shoot that I pieced together from several shots.
See more from the shoot here.
So, that's what has been keeping me busy professionally as of late. I really need to update more often so I don't have big long posts like this anymore!